Student Resources
Student Handbooks Library CLE Tutoring Open Labs NAH Scholarships
Library Services
Library Resources
CLE Services
CLE Hours
*For up-to-date notices of closures, hours changes, and relocations visit the CLE Hours and Contacts page.
---
Helpful Links
The Helpful Links page offers resources available from around the web for students to utilize in their academic career. Amongst the many links are:
Learning Commons & Open Labs
Welcome Nursing and Allied Health students. We encourage you to utilize the services provided by our trained, friendly staff at each campus.
Locations & Hours
Find the address, phone number, and hours of operation for each computer lab.
Printing Guidelines
Read our computer lab Printing Policy and learn how to request print credits.
Software & Equipment
Find group stations, scanners, and other hardware as well as NCLEX RN 4000 and other NAH Software.
Staff Directory
Find contact information for each staffed open lab location.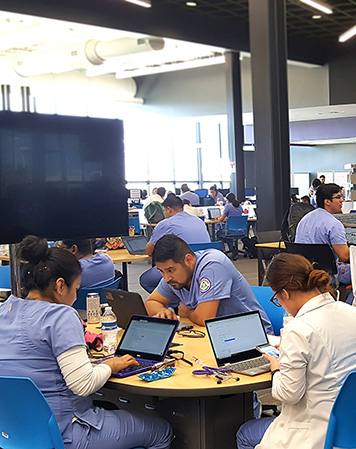 NAH Scholarships
Scholarships are an additional source of financial aid to provide assistance for students who seek to further their education. Please be aware that all scholarships have their own individual deadlines and are awarded on various criteria at the discretion of the donor. Please take advantage of the links provided below in your search for scholarships.